Cosmetic Dentistry
Interest in Cosmetic Dentistry has grown over the past decade.  Our staff and doctors know that having a beautiful smile enhances our appearance and allows us to be more confident.  Thanks to the modern advances in cosmetic dentistry, we are able to improve our teeth and smiles with easy and pain-free cosmetic dentistry procedures.
What Cosmetic Dentistry can do for you:
Change the size, shape, and alignment of your teeth.
Fill in ugly spaces between your teeth.
Improve the brightess of your smile.
Replace missing teeth.
Correct unattractive dental treatments.
Repair broken or cracked teeth.
Porcelain Veneers
Porcelain Veneers are thin pieces of strong, tooth shaped porcelain that are custom made by an advanced dental laboratory.  These custom shaped veneers are then bonded onto the front of teeth to create the perfect smile.
Reasons for porcelain veneers:
To create a uniform, white, beautiful smile
Crooked teeth
Misshapen teeth
Severely discolored or stained teeth
Teeth that are too small or large
Unwanted or uneven spaces
Worn or chipped teeth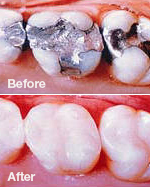 Tooth Colored Fillings
A tooth colored filling is used to repair a tooth that is damaged by decay, cracks, fractures, etc.  The decayed or damaged portion of the tooth will be removed and then filled with a composite filling.
Reasons for composite fillings:
Chipped teeth
Closing space between two teeth
Cracked or broken teeth
Decayed teeth
Worn teeth
Teeth Whitening with Zoom®
Zoom® is the most effective teeth whitening system today. Other teeth whitening systems don't compare. Zoom whitens better and faster.
Reasons for undergoing a tooth whitening procedure:
Wear of outer tooth layer
Stained teeth due to medications
Yellow, brown stained teeth resulting from eating or smoking